What Is The Best Fabric To Cover a Sofa?
Watching Netflix or snuggling up with a favorite book either want to decorate your home, the sofa is the correct solution. Adorn your sitting area with a luxurious sofa cover that not only raises your comfort conditions but also adds a pop of color to your house.
When it comes to purchasing a slipcover for furniture, we focused on everything; it quality, colors, texture, and so on. Although, our sofas are situated in our living rooms or guest rooms, when we enter the room, the sofa and bed are the first pieces of furniture that capture our attention.
The fabric you pick for the couch is dictated by your preferences and needs. People who love relaxing on the sofa and spend more time so they move with soft fabrics such as linen and cotton. Polyester blended textiles, on the other hand, are performing well to save time when cleaning.
Sofa covers are available in a wide range of fabric quality and tempting hues. Don't worry if you're unsure about selecting material that will last a long time; this write-up is for you. Here we provide the best fabric guide for a sofa that works brilliantly and stay on your sofa for an extended period of time!
Everyone is a fabric aficionado now, and they just choose fabrics that are visually pleasing as well as comfortable because they spend one-third of their time sitting on them. You may make your home more aesthetically pleasing by using appropriate fabric and eye-catching colors.
Kinds of Sofa Cover Fabric
You may choose a variety of fabrics for sofa upholstery, ranging from natural materials like linen and cotton to sumptuous velvet and silk to leather. Hence, it is a list of suitable sofa fabrics that are on the top of the list:
Let's commence with cotton fabric. This natural cotton fabric performs well when it comes to skin-friendly fabric. It provides good resistant in fades, tears, pilling, and so on. Cotton fabric is the best sofa cover for a multitude of reasons. The breeze thing about cotton fabric is that it's highly cost-efficient. This fabric texture is cozy, snug, stretchy, and durable – making the finest choice for picking owing to its versatility and coziness. Ultimately, the dry strength of the cotton fabric is up to 27 – 45, and the wet strength is 30 – 54. Its soft texture is similar to that of a vintage T-shirt that entices you to dig into it again and again. So putting cotton fabric on the sofa cover is the wisest move for lasting durability and a plush feel.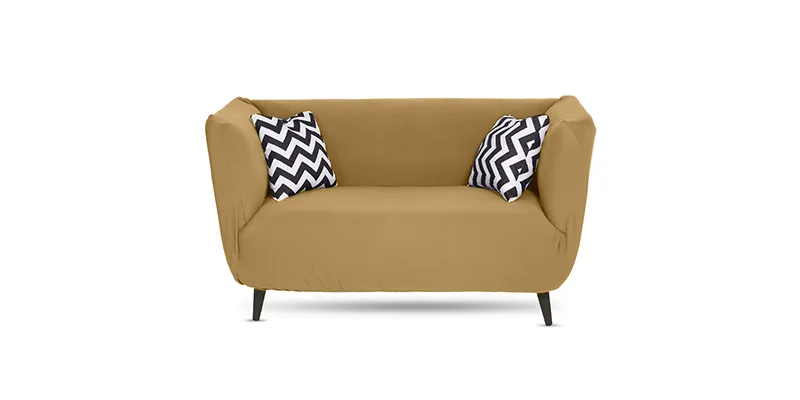 Make your sitting area opulent and pleasant for napping, playing, and spending time with family. For a variety of reasons, linen couch cover material is popular. It is constructed from flax plant fibers, which have inherent breathability and moisture-wicking attributes. Unlike other types of couch cover fabric, linen fabric is long-lasting, hypoallergenic, and conceals severe grime. The good news is that it just takes a small amount of time to clean and a little bit of care to keep it pristine. That is why everyone falls in love with it. Furthermore, the linen fabric couch cover is cool in the summer and toasty warm in the winter. As a result, it provides a comfortable and eye-catching sitting area.
Jersey-Knit Fabric Sofa Cover
While the jersey's fabric for sofa cover is popular due to its softness and stretch, like other sofa cover fabric – it is a too relaxed fit and easy to put on and off. It gives a high-end texture that can range from lustrous and coziness to bulky and bumpy. Performance of jersey-knit fabric is the wisest judgment and go-to choice for sofa cover. If you have a problem with pet fur or wrinkles on your couch, the performance of the jersey-knit fabric is a good solution for you. With the jersey knit fabric sofa cover, you feel like your vintage soft tee shirt. Ultimately, it means that whenever you sit – sit with luxury!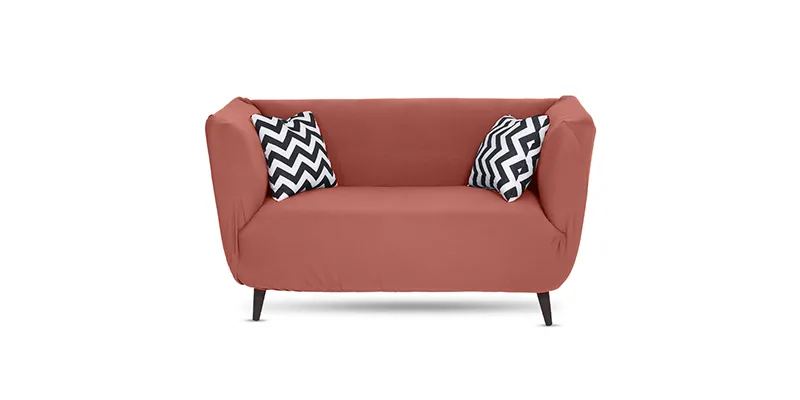 Velvet is considered a silky, sumptuous, and plush feel, which any household desire can have. From mustard to jewel-toned colors; velvet is the fabric that turns your eyes to the splash of color that will enliven your space with an enchanting glow. With stand up to daily stains, wear or tear, spills, velvet furniture covers are pretty much. Stay tight and free from wrinkles, high performance to resist fading, very easy to clean, super stretchy, and give your house a sumptuous feel and glamorous shine. The downside of velvet fabric is that it is a bit costlier than other fabrics. No another headache is accessible in velvet sofa cover!
Silk is supposed to be the most substantial natural fabric recognized for its strength, durability, shine, and luster. Despite its immense brawny power, silk is feasible for sofa covers for multiple reasons. This fabric is suitable for living rooms or covering your delectable furniture. Silk generates a shimmering optical influence and gives a relaxed fit, comfortable plush feel. It is the epitome of sumptuous owing to its sophisticated look and plush feel.
Now that you have recognized what type of fabric will work best for your sofa. So finally, the vital part accomplished; what's the perfect fabric! Remember that the kind of fabric you use, pattern, material, and color will impact your house. Slipcovers allow you to modify your house look by adding decorative cushions. Cushions are one of the home decoration items that people love because the cushions give your home a splendid appearance. But are you worrying about where to find a top-quality sofa cover? Rainbow Linen got you covered! Explore the wide assortment of home decoration items that will rejuvenate your home enticingly.